Official site - here
Credit consumption - here
Official Support - here
Need dongle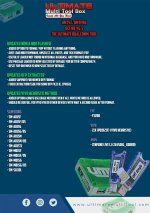 UMTv2 / UMTPro - QcFire v6.5
Added
Asus
- ZenFone Live L1 (ZA550KL_X00RD)
LYF
- F320B
Samsung
- SM-A015F
- SM-A015F/DS
- SM-A015G
- SM-A015G/DS
- SM-A015M
- SM-A015M/DS
- SM-A015T1
- SM-M015F
- SM-M015F/DS
- SM-M015G
- SM-M015G/DS
- SM-S111DL
Vivo
- Z1x (PD1921F) (Vivo Heuristic)
Updated Nokia NB0 Flasher
- Added option to Format/FRP witout flashing anything.
- Just load NB0 firmware, unselect all parts, and tick Format/FRP
- Useful if loader not found in Internal Database, and you have NB0 firmware.
- Use Pakcage Loader is now selected by default for better compatibilty.
- Reset FRP on Finish is now selected by default.
Updated OFP Extracter
- Added Support for newer OFP format
- Fixed extraction issue for some OFP files ie. CPH1611
Updated Vivo Heuristic Method
- Added option Always use Erase Method even if Alt. Write Method is allowed.
- Should be useful for Vivo V19 or other devices with Wait a second issue after format.
Last edited: